Korean Nipple/Areola Re-pigmentation (Package)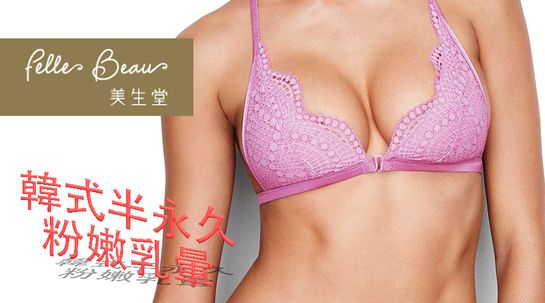 Korean Nipple/Areola Re-pigmentation (Package)
Restores a natural look to the areola/nipple area or lightening dark color into pink, boost your self-confidence.
Include 1 retouch procedure(s) within 12 months

Principle
We use Europe and US natural pigment to inject pink color at areola/nipple area, to restores a natural look or lightening dark color into pink. It is also possible to modify the size of the areola/nipple, to cover the scars of the breast surgery or to reconstruct the areola/nipple after breast cancer surgery.
Process
Consultate with client and deisign areola/nipple size

Apply cleanser on procedure area for sterilization and anti-inflammatory

Apply soothing cream to reduce painful

Apply pigment on

areola/nipple

by disposable tools

Apply wound shrinking fluid to help stop bleeding and prevent color lost

Finally apply coloring solution to help fix color
Procedure duration
Depends on areola/nipple size, longer procedure time will be need if areola/nipple size is large.
Lasting time
Korean Nipple/Areola Re-pigmentation result last for around 1 year. The package included 1 retouch, can be used within 1 year, no extra charges.